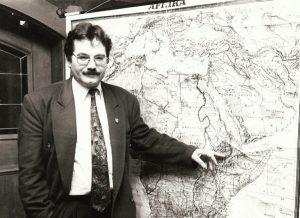 How an idea became a friendship and Peter Dingler became the association's founder
Karlheinz Böhm, founder and tireless motor of his life's work "Menschen für Menschen" (MfM for short) was for a long time a citizen of the community of Vaterstetten. His personal friendship with our then mayor Peter Dingler prompted him to visit some of his project areas in Ethiopia together with Dingler in 1993. When Dingler got to know Alem Katema during this trip, the desire to establish a partnership (one of the first ever to Africa) arose in him. When the local council unanimously passed the resolution in 1994, this exotic connection took shape.
At the founding meeting in December 1994, 42 Vaterstetten citizens present elected a 7-member board of directors. Sepp Klement was elected as the 1st chairman. With a two-year interruption, he remained so until 2011. Above all, he deserves thanks for a unique record:
2000: The first major project is the "Vaterstetten Kindergarten".
2002: Establishment of the "Vaterstetten-Library".
2007: Opening of "Baldham Kindergarten" in the presence of Almaz Böhm.
2013: Opening of the new library "Humboldt-Library".
2014: Opening of the "People's Museum" in the rooms of the old library.
2015: Start of the workshop trip to Alem Katema.
2016: Start of the workshops for the "Almaz Böhm Vocational School" within the project NAKOPA.
Currently, over 400 children go to preschool in both kindergartens. The library has over 20,000 visitors annually. Until recently, the association employed 24 Ethiopian staff, all of whom have now been taken over by the city of Alem Katema. Only one Ethiopian executive director ("permanent secretary") is still on the association's payroll.
In addition, numerous private sponsorships for people in Alem Katema have developed over the past two decades. All projects until 2015 were financed by contributions and donations from our members, donations from private persons (e.g. on the occasion of birthdays and wedding celebrations) and institutions (e.g. sponsored run of the Humboldt Gymnasium). The project NAKOPA is supported to 90 percent by the federal government and to 10 percent by the municipality.
After almost 25 years, the association consists of over 600 members.