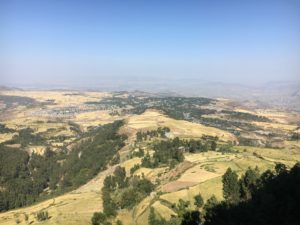 A world city of a different kind
Alem Katema or Alem Ketema means something like "world city" and is located in the woreda (district) of Merhabete (North Shewa Zone, Amhara Region, Ethiopia). At the time of the association's foundation, the settlement consisted of about 7,000 inhabitants, which corresponded to about 1000 households.
Today, the town has grown to 28,000 inhabitants, overtaking Vaterstetten. Merhabete County has a population of over 100,000. Politically, the city and county are separate – but Alem Katema is the capital of Merhabete. Alem Katema is located on a plateau – about 2300 meters above sea level and is divided into three municipal districts (kebeles). The mayor is not elected by the people, but is politically appointed.
Alem Katema has a hospital, two elementary school, a secondary school and a vocational school – two kindergartens and a library. The hospital and most of the schools were financed and built by the foundation "Menschen für Menschen", which left Alem Katema as a project region a few years ago.
The capital Addis Ababa is located about 180 km further south-west and can be reached in half a day's drive. Electricity for the city is now supplied by a transformer station. While the connection with the cell phone is very stable, the Internet has now and then longer dropouts.